New Exhibition!! // Opening! for 48hours NK // opening // 14.06.19 // 19.00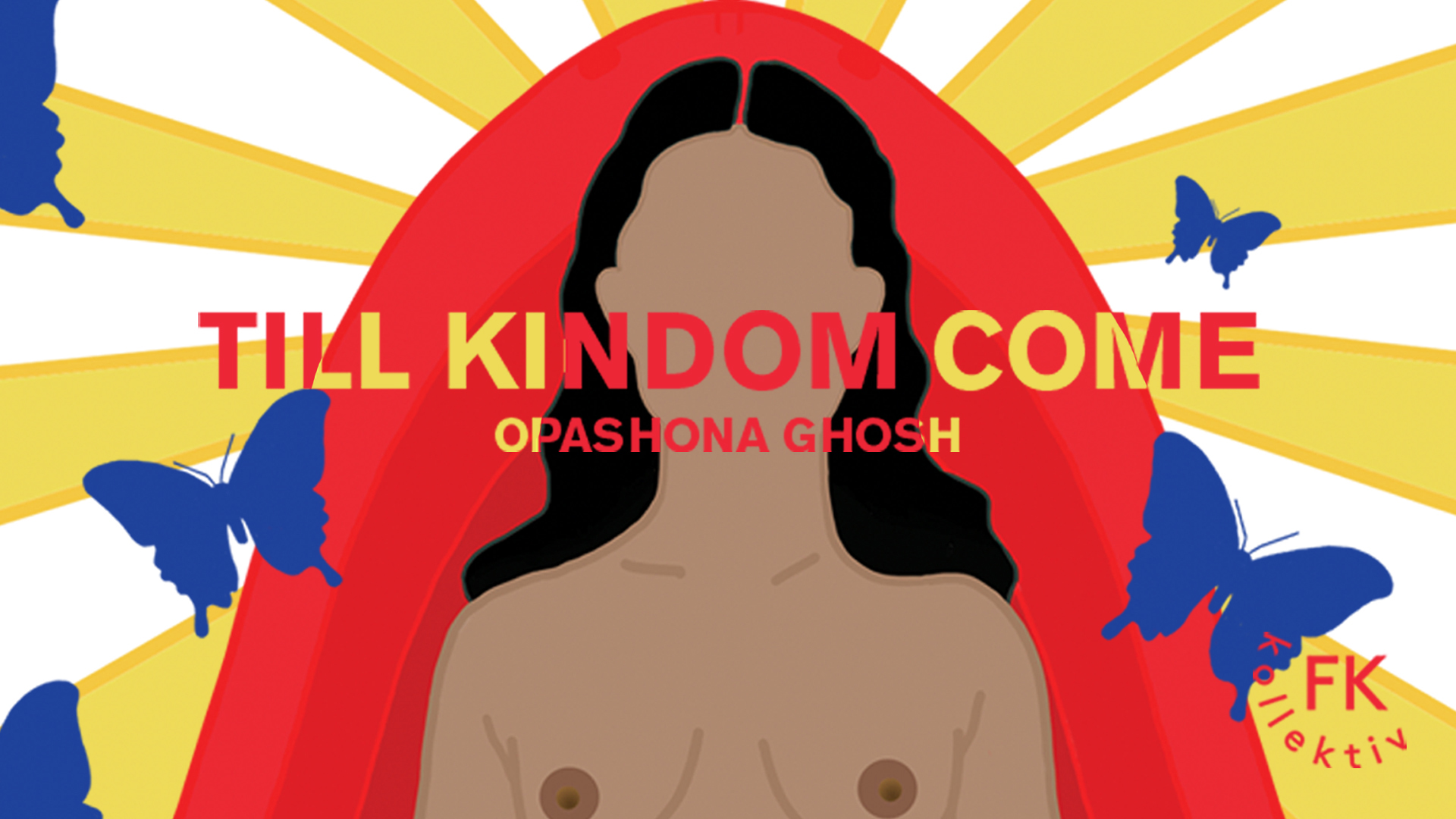 Opashona Ghosh
Till Kindom Come
Erotic mythology caressing through bodies in ritual union
DE⤈ FK-Galerie is excited and proud to present Opashona Ghosh's first solo exhibition of her graphic works. showing as part of 48 Stunden Neukölln
Out of a history of loss and disorientation, comes Till Kindom Come : an urgent argument for a new vocabulary of sexuality. Using erotica as a means of transcending gendered normativity and expanding agency, Till Kindom Come dives into the peculiar world of fantasy as coping mechanism; the fantasy that responds to the need to heal. The series emerged through meditations on healing after sexual trauma and coming out as queer. Each image was a therapeutic response to a time of vulnerability and loss of faith. Over ten months, Till Kindom Come enabled Ghosh to consciously transform feelings of shame, fear, and anger into a mindful manifesto of pleasure as an irreplaceable component of the self.
OPASHONA GHOSH
Ghosh (b. Calcutta, 1987) is an illustrator and visual artist. Graduate of Central Saint Martins, University of the Arts (London). She uses graphic illustrations to investigate the emotional landscape of queer femininity and eastern fantasies in everyday rituals.
Her work often envisions women of colour in playfully sexual acts within symbolic environments. Designed to both titillate and empower, Ghosh seeks to question social and moral norms while subverting gendered expectations.
Till Kindom Come is presented as part of a curation series: Facilitated and created by artist Stephanie Ballantine; Sync, Psych, Self (sic) is a series of exhibitions, performance events and installations exploring the heritage and ideology of the self portrait : Ballantine reflects on self portraiture as a medium which has been used to uncover and explore oppressive norms, and poses the question of its place within a 'selfie' saturated environment. She posits Self-Portraiture as a perspective within spheres of art, affect theory, feminism, gender theory, post humanism, as well as fields of psychology and sociology.
Die FK-Galerie freut sich und ist stolz darauf, Opashona Ghosh's erste Einzelausstellung ihrer grafischen Arbeiten zu präsentieren.
Aus einer Geschichte des Verlustes und der Orientierungslosigkeit kommt Till Kindom Come: ein dringendes Argument für ein neues Vokabular der Sexualität. Mit der Erotik als Mittel zur Transzendierung geschlechtsspezifischer Normativität und zur Erweiterung der Agentur taucht Till Kindom Come in die eigentümliche Welt der Fantasie als Bewältigungsmechanismus ein; die Fantasie, die auf das Bedürfnis nach Heilung reagiert. Die Serie entstand durch Meditationen über die Heilung nach einem sexuellen Trauma und das Herauskommen als queer. Jedes Bild war eine therapeutische Reaktion auf eine Zeit der Verletzlichkeit und des Vertrauensverlustes. Über zehn Monate lang ermöglichte Till Kindom Come Gosh, Gefühle von Scham, Angst und Wut bewusst in ein achtsames Manifest der Freude als unersetzliche Komponente des Selbst zu verwandeln.
OPASHONA GHOSH
Ghosh (geb. Calcutta, 1987) ist Illustrator und bildender Künstler. Absolvent der Central Saint Martins, University of the Arts (London). Mit grafischen Illustrationen untersucht sie die emotionale Landschaft der queeren Weiblichkeit und östlichen Fantasien in alltäglichen Ritualen.
Ihre Arbeit sieht Frauen von Farbe oft in spielerisch sexuellen Handlungen in symbolischen Umgebungen vor. Ghosh wurde entwickelt, um sowohl zu kitzeln als auch zu stärken, und versucht, soziale und moralische Normen in Frage zu stellen und geschlechtsspezifische Erwartungen zu untergraben.
Till Kindom Come wird im Rahmen einer Kurationsserie präsentiert: Moderiert und gestaltet von der Künstlerin Stephanie Ballantine; Sync, Psych, Self (sic) ist eine Reihe von Ausstellungen, Performance-Events und Installationen, die das Erbe und die Ideologie des Selbstportraits erforschen: Ballantine reflects über Selbstportraits als Medium, das verwendet wurde, um bedrückende Normen aufzudecken und zu erforschen, und stellt die Frage nach ihrem Platz in einer gesättigten Umgebung von selfie'. Sie setzt das Selbstporträt als Perspektive innerhalb der Kunstsphäre, Affekttheorie, Feminismus, Geschlechtertheorie, Posthumanismus sowie fields der Psychologie und Soziologie.